Bernacchi in La Porte, Indiana
and
Hendricks in Lititz, Pennsylvania
Bernacchi in La Porte, Indiana
In June 1970, the summer after my sophomore year in college, I went to work for the Cincinnati-based
Rough Brothers (RBI)
greenhouse company (pronounced RAUH; rhymes with cow).
Rough Brothers was and is a premier supplier of greenhouses and appurtenances, of course, well known throughout the US. Their crews traveled, especially the northern states, erecting and refurbishing greenhouses.
After a trial period of a few days in the Cincinnati fabrication shop, I was assigned to a traveling crew. I spent maybe 2 weeks in La Porte, IN; I can't remember the extent of work there, only that it was for the Angelo Bernacchi family business.
Unfortunately, the Bernacchi business closed in 2014
https://issuu.com/heraldargus/docs/greenhouses_final
La Porte, IN

From the La Porte County Herald-Argus newspaper
---
Hendricks in Lititz, Pennsylvania
Later in the summer we were sent to the Hendricks family business in Lititz, PA. One part of the project was a large new greenhouse, another part was a rework.
REWORK
In the photo below (* with Sue Ellen Hendricks), I see the old iron plate haunches on one of their greenhouses, maybe this was the one we reworked. I helped dismantle the glass enclosure, then wire brushed and painted the old iron structure, I vividly remember the concrete carnation beds covered with shade cloth — I slipped while painting and almost fell on those beds.
I didn't actually fall, somehow I caught myself, 'hanging from my knees' from the purlin. The hours on the monkey bars in elementary school paid off.
NEW
Several things stand out about that new greenhouse project.
The cladding was extruded aluminum 'bar joists' and glass, the structure was galvanized steel, the ground level surround was corrugated Transite.
We pre-assembled the roof trusses at grade and then lifted them with a tractor-mounted crane/derrick.
The columns were placed in concrete-filled piers.
Rough Brothers built beautiful greenhouses but the construction effort was unsophisticated. The piers were cut into surface bedrock by laborers using pickaxes and digging bars (guys like me). The bedrock seemed like solid granite; I now guess it was dolomite — tough stuff.
The concrete delivery charged extra for 'standing' time. I've never even heard of this in the USA but the concrete was just dumped in a pile like dirt, then shoveled and hauled in a wheelbarrow to each pier location (again, by guys like me).
The aluminum bar joists were attached to the purlins by sheet metal screws. Every screw was placed with sweat, blisters, and a Yankee screwdriver. For this one new greenhouse, I think we had a couple three barrels of screws, each barrel maybe 16″ diameter by say 24″ tall — so just say thousands of screws installed by hand from scaffold boards.

Yankee screwdriver
The on-the-road work schedule for RBI crews was 10 days on, 4 days off, repeat. Those were 14-hour workdays. I estimate we were in Lititz for 4 calendar weeks. Of course, we didn't get out much but I remember a charming, well-kept town. The 'work lunch' arrangement for our crew was: one man was sent to the store for lunch meat, cheese, tomatoes, a couple loaves of bread, fruit, drinks; on his return we convened for a 30-minute 'luncheon on the grass' under the trees, each making our own sandwiches; then a quick nap; same routine every day; very efficient.
After the project was finished, the Hendricks family treated us all to a lovely lunch indoors. So nice.
https://www.hendricksflowershop.com/
Lititz, PA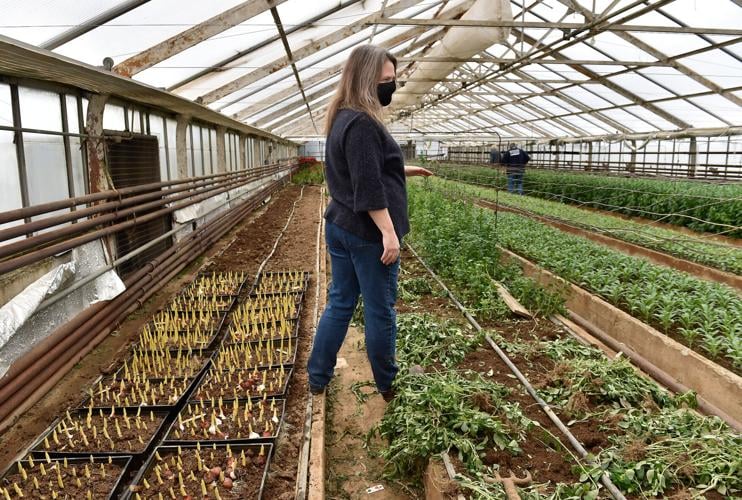 (*) Sue Ellen Hendricks

(*) Inset showing iron frame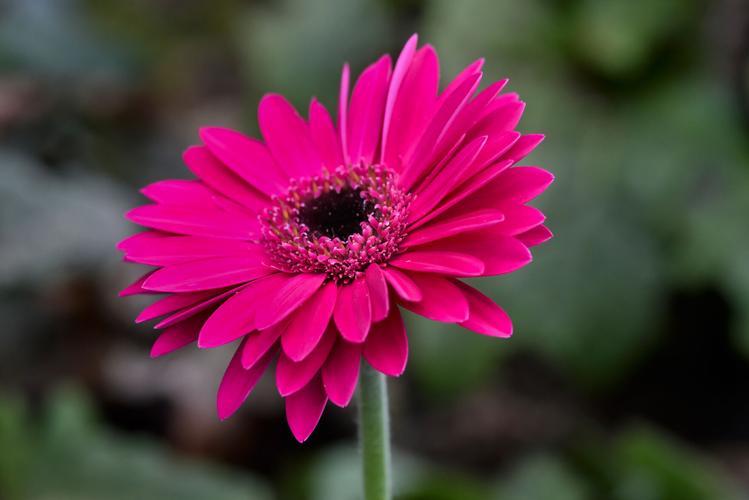 Gerber daisies
Both amazing and wonderful that the family still has the business.
Fond memories
---
Seems Rough Brothers is still going strong, now under the name Prospiant.
https://www.prospiant.com
https://www.roughbros.com/
https://en.wikipedia.org/wiki/Rough_Brothers,_Inc
---